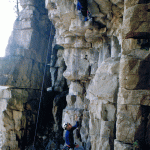 I was climbing the "MacMaster" route at Rattle Snake Point yesterday.  As always, I had my Nokia cell phone in my leg pocket which was buttoned by velcro strips.  The cell phone never fell out of my pocket.  And I sometimes answered calls while on the cliff. 
As you can see from the picture that was taken years ago, when I had this picture taken for my company's team building training brochure, this route has a huge overhang.  I climbed over it and reached to the top.  When my climbing partner William Meijer started lowering me down, I heard a Bong! sound from the ground.  "Your cell phone fell," William said.
On the ground I picked my cell phone, which was lying on a big piece of rock.  The screen still displayed the time.  The front cover had popped up by about 1-2mm.  I pressed the cover and it clicked back to its original place.  The phone was still working fine!
"Was this where it landed?" I asked William, as I suspected that it had landed on a dirt spot and then bounced to the rock.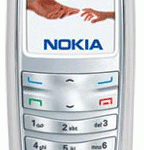 "Yes." he answered, "It fell and didn't move a bit."
"Wow!  This cell phone is really Goooood."
I found the picture of my cell phone from Norkia's web site and I am posting it here.  If you are doing lots of sports and wanting to have a cell phone with you all the time, this could be your choice.