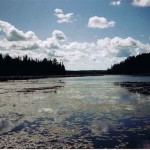 That day, it was cloudy, cool, and still.  I was paddling my canoe through a bog area, moving cautiously and slowly towards Big Trout Lake.  Behind me was another canoe paddled by two Americans whom I had met a couple of times on my canoeing and portaging route.  The water was shallow, just deep enough to carry the canoe and not let its bottom touch the mud.  There were grass and weeds growing from the mud and standing above the water.  Randomly protruding out were dead branches which were grey, dry and almost rotten.  Along the shore of the lake stood massive pine and fir trees, like disciplined soldiers.  In water, their still images were juxtaposed against clear reflection of white clouds and blue sky.  This area, far away from any kind of civilization, had an atmosphere of seclusion, serenity and tranquillity.
The water in front of us divided into two paths.  Only one of them could be the right way to Big Trout Lake.  So, my American friends went to the left and I went to the right.  It was a rational reaction from us three well educated young professionals.  When Mark and Jared were out off my sight, my canoe got stuck in the mud, between the grass, weeds and branches.  The force generated by paddling water wasn't strong enough to pull the canoe out of this trap.  I started to push the soft mud with my paddle.  Kachaah!  My seat suddenly collapsed, because the powerful force bounced back to my body and then to my seat.  I almost lost my balance.  I was a little scared.  Falling into a swamp is dangerous.  I remembered what I had learned in primary school: many Red Army soldiers died in the swamp during the Long March in 1930s; some of them died when they tried to rescue others; and thus later some soldiers could only helplessly watch their comrades sinking into the earth.  I slowly balanced myself and the canoe, gradually lifted the seat back to its original position.  Then I attempted to push the mud again.  Kachaah!  The seat collapsed again, more violently.  The canoe swung left and right, up and down.  Its tipping momentum nearly dumped me upside down into the water.  I felt that my head was going to hit the water first, but just before this could happen, I pushed downwards with my feet and jumped out of the canoe.  I landed with my feet planted in mud and my chest above water.  The canoe was one third full of water and mud.  I tried to climb back into the canoe through one side of it.  But the canoe only tipped sideways and scooped in more mud and water.  Meanwhile my feet were sinking deeper into the mud.  It ha d already covered my legs and was still moving up to my hips and my waist.  It was sucking, dragging me steadily into its warm softness, leaving no room for negotiation.  I decided that I couldn't get out myself.  I needed help…"Help!…
Help…  Mark, help!  Jared, Help!…
Mark!  Jared!  Come over here!"
My voice was really LOUD.  I opened my mouth wide, relaxed my shoulders and took deep breaths to support my voice as if I were singing an Italian opera aria.  Two years of classical voice training were finally applied unspeakably well.  The sounds echoed in the wilderness.  About 20 seconds later (it seemed much longer than that), I heard Jared's response, "Ping, we are coming!"
Two days before, I started my first canoe trip at Opeongo Lake.  A young man at Opeongo Store sold me a map of canoe routes, rented me a canoe, a life jacket and 2 paddles.  He explained that I would need two paddles in case one broke.  It reminded me of the idiom — up the creek without a paddle.  He suggested that I take a loop trip which consisted of nine lakes and 11 km of portage.  He then showed me the "J stroke" paddling technique which enabled one to keep the canoe moving in a straight line while paddling on only one side of the canoe.  Afterwards, I ventured into the 14 km long Opeongo Lake, the biggest in Algonquin Park.
It was my first trip to the outdoors in the past year.  I felt really refreshed as soon as I was in the middle of the lake.  However, I found it difficult to identify the route.  The lake was huge.  The zigzaging shores and scattered islands confused me.  I had trouble differentiating islands from the mainland, and dead-end water ways from the through path.  After making a few mistakes and detours I became very good at reading the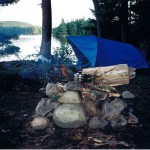 map and identifying the route.  In the late afternoon, I reached a campsite, set up my tent, lit a campfire and cooked some noodles.  After dinner, I put all the food, the toothpaste and anything that smelled into a bag.  I hung the bag on a high branch far away from the tent so that if a bear came, he/she wouldn't be able to reach my food and wouldn't come close to my tent.  At night, however, I still couldn't fall asleep.  There were just too many noises.  First, I heard something moving around the tent and I thought, "maybe it's a bear walking around and he's probably studying and examining this strangely shaped object."  Then I heard some flapping sound from the top of my tent.  I became tense, "Oh, no!  The bear's patting the tent, either to feel the strange material or just to play with it."  I held my breath and pretended to be dead…  Then I heard some animals bawling and howling.  This time I was able to tell that these sounds came from a long distance.  After a while, it became quiet.  I slowly opened the door of the tent and looked out into the darkness.  I saw a couple of campfires on the other side of the lake.  I even heard two people's voices from a neighbouring campground which was probably 200 meters away.  It sounded like they were cutting up firewood with an axe and scooping water from the lake.  I then looked up into the sky — "Wow, amazing." I uttered.  I saw millions and millions of brilliant stars hanging over me (or falling over me).  They looked like an infinite chandelier one could never possibly imagine.  It hung over my head, so close.  Stars were dropping to my eyes, so close!  I kept my head outside while lying in the tent, watching the stars like I did when I was a child.
In the morning, I boiled some noodles and dehydrated vegetables on the camp stove and ate a large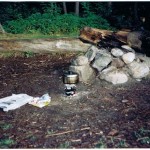 breakfast.   In order to save time and to go further, I planned not to stop for lunch.  However, at noon, I became very hungry.  Since I had only packed food for the morning and evening, I started begging for lunch.  Two Torontonians gave me a bag of jujubes and four oranges.  They were generous because they were heading back and didn't need any more food.  They could have delicious meals as soon as they returned to the civilized place.  Two university students who were also heading back gave me a bag of cookies.  The two Americans Mark and Jared, didn't give me anything, because they were travelling in the same direction as I was.  I was much contented with my harvest.  Before my first portage, I had lunch.
From Opeongo Lake to Happy Isle, it was a 2180 meter long portage trail.  My canoe weighed about 30 lbs.  My backpack weighed about 20 lbs.  It would be hard to carry both of them at the same time.  So I carried them in two trips.  The trail, passing through the forest, was mostly flat.  The canoe, made of a light material – Kevlar, was not heavy.  I carried it on my head and shoulders with ease.
Happy Isle was much smaller than Opeongo Lake.  I was able to reach the other end before dusk.  Mark and Jared, however, stopped to camp on an island in the middle of the lake.  They planned a short return trip, not half as long as my loop trip.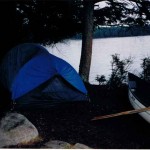 Next morning, it rained heavily.  I remembered the advice I got from James at Mountain Equipment Co-op: stay dry.  So I stayed in the tent and waited for the rain to stop.  I saw Mark and Jared paddling by and waiving.  I asked loudly, "What are your tricks for canoeing in the rain?"  "Stay dry." one of them responded loudly.  In half an hour the rain stopped and the sun came out.  I was happy.  While packing, I sang my favourite Italian song, O Sole Mio, to the trees, to the lake and to the sun.
The portage trail from Happy Isle to Merchant Lake was only 340 meters long, a piece of cake for an experienced canoeist like me.  Merchant lake was almost as big as Happy Isle.  It was so placid that I could hardly see a wrinkle.  This peacefulness made my paddling effortless.  Plus, my "J stroke" was nearly perfect.  It only took me 45 minutes to cross this 3 km long lake.  After this, I felt confident that I could complete my loop trip on time.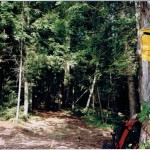 The next portage trail was 1840 meters long.  I first carried only my backpack and found this trail extremely difficult.  It was narrow, winding and with a few uphill and downhill sections.  It was also stony and especially slippery after the rain.  Occasionally a big trunk or a huge stone lay across the path.  All this adversity made this 1840m trail seem much longer than it was.  When I reached the other end of the trail, guess who I saw? — Mark and Jared.
They were surprised that I was so quick to catch up with them.  So was I.  "You said that you were a chemist.  But we think that you are really an opera singer in hiding."
I was puzzled, "Why?"
"We heard you singing this morning, in a foreign language."
"Really?  Oh, yes.  I sang this morning long after you had left.  You could still hear?!"
"Yeah, your voice travels."
That's true, I told myself.  Then I said, "And also the lake reflects sound very well.  When I was in the middle of Opeongo Lake, I screamed and yelled.  I heard strong and clear echoes.  Isn't that strange?  I had always thought that only mountains or walls could reflect sounds."
"It really is amazing, isn't it?"
Perhaps partly because of their impression of my vocal talent, they immediately agreed to help me when I asked them to help me carry my canoe which was still at Merchant Lake.
It was hard, frustrating work.  Jared and I carried the two-man canoe, while Mark carried the solo canoe.  He was sweating and muttering, "What's the purpose of this trip? — carry the canoe, paddle through the lake, then carry the canoe again, then cross another lake, and then carry the canoe…"
After this portage, we had lunch together.  We shared their cheese and crackers and my oranges.  They said that it was a treat after not having fresh fruit for a couple of days.  Then we set our canoes onto the water and set out to cross a marshy passage which led to Big Trout Lake.
 
They came.  They saw.  They rescued.  me.
They told me to put my hands on the tip of their canoe and I pulled myself out of the mud.  We scooped some water out of my canoe.  Then they tied a rope from their canoe to mine.  We paddled all the way back.  On shore, I took off all my clothes, and bathed naked in the cold water.  I joked that it was a natural bath.  Although my backpack was soaked in water for more than 10 minutes, everything was still dry, because it was wrapped in plastic bags.  The tips that my friends had given me proved to be invaluable.  I put on dry clothes and gradually stopped trembling.  Mark washed my muddy clothes and fastened my canoe seat with ropes.  Jared boiled some water and made me a chocolate-like soup.  I thanked them.  "Yes." Jared said, "Sure."
Mark said, "You are welcome."   He finally realized the purpose of his trip.  He thought that God allowed them to come over here, be near me and rescue me.  (I felt a bit disturbed because I didn't favour Christianity or any other religions.)  Before they bid me farewell, they prayed to their God that I would safely return to Opeongo Portage Store and that this incident would not deter my interest in canoeing.  Afterwards, they headed to Big Trout Lake again.  I started to pack everything into the backpack. Based on the speed I had in the morning, I expected to cross Merchant Lake and reach Happy Isle by dusk.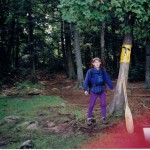 Perhaps I was debilitated after being soaked in cold water for too long, I felt that my backpack was much heavier than before.  So were my legs.  I toiled along the trail in the woods and eventually reached  Merchant Lake.  Then I walked back to carry the canoe.  I started to have flash-backs of my life and death experience.  What if these two Americans were not around at that time?  What if I had fallen into the isolated bog area in Opeongo lake the day before?  A feeling of loneliness invaded into me.  I wished that I had a friend right beside me. 
Massive clouds obstructed the sky.  It was peculiarly dark.  Soon, the rain was pouring down.  The canoe seemed to be twice as heavy as before.  I trudged forward, dared not to stop, for I feared that I couldn't reach the next campsite by night.  My head and shoulders were aching.  My back was painful and weak, so weak that I felt my spine might snap at any moment!  A mixture of feelings and thoughts suddenly overwhelmed me.  It confused and upset me.  I started to falter.  I became angry.  I felt that some one or some powerful force was purposefully working against me.  The whole world was against me, against my plan, against my will.  I threw the canoe aside, looked up into the sky and cried, "Who are you?!"
 
I had never believed in God, especially not the Christian God.  I didn't believe that just because you were a Christian you would be good and kind.  Some Christians were so proud of themselves and looked down on others.  This really made me resentful.  Two weeks before my coming to Algonquin, Kevin invited me and another friend to the Movenpick restaurant in Toronto to celebrate his new job.  Kevin and I were classmates in Wuhan University in China nine years before.  He had been staying in my apartment for three months after receiving an MBA degree from Indiana University in the United States.  Now he got a job and was going to have his own apartment.  We were all in a happy mood.  Next to our table sat a middle-aged American couple.  They said that they had just returned from China where they shot a video tape of repressed Chinese Christians.  They had also smuggled hundreds of bibles into China and the husband had been caught by the Chinese custom officials.  They sounded like moral crusaders, with the ultimate righteousness in the universe, above any other religions and any governments.  Throughout the dinner the wife was anxious to persuade us into believing in Jesus Christ.  She repeatedly asked, "Don't you think that there is a purpose for every thing?" and "What is the purpose of life?"
I replied, "The purpose of life is to live and live well, to be productive and beneficial to both the individual and the society."  I continued, "I don't believe that Christians are more noble than any one else.  In history, there were many wars in which Christians fought and killed each other.  Also, I don't think what you have done in China is right.  You should have been law abiding visitors and respected the law in that country, no matter weather the law is right or wrong according to your Christian standards.  You cannot just wave a Christian flag and claim righteousness over the Chinese government as those colonial Christians did in China 100 years ago."  I wanted to stop the conversation.  But they just didn't want to leave us alone.  Eventually, a celebration dinner was turned into a fight to resist persuasion.  To me, it wasn't a pleasant dinner.
At that time in my life I was seriously looking for some pleasant experiences.
My birthday was coming up soon.  I had to do something meaningful for it.  I definitely wasn't going to spend that day at work.  Also, it seemed dull to take some friends to a restaurant for such an event.  No one was going to give me a surprise party, for sure.  At the end, I decided to go to Algonquin Park to explore and venture.
 
I asked Jason if he would be interested in going with me when we were having supper in his parent's country house.  He said yes.  I was delighted.  We had spent a lovely afternoon together.  He had shown me acres of properties around the house, the tepee which he erected himself and some real horses nearby.  After that, we went for a hike in the forest and passed by beautiful lakes.  We located a deserted train carriage beside a small lake.  The carriage was probably abandoned there decades before.  But we could still imagine its original grand luxury just by looking at its couch-equipped living room, carpeted dinning room, cosy bedrooms, spacious wash rooms and well designed kitchen.  Both of us had never seen an on-service carriage designed as luxury as this one.  Not far away we found a few Blue Jay feather and pieces of a weasel's skeleton.  After returning back to the house, we threw ourselves into the out-door swimming pool.  Jason had lots of wild life experiences.  He had encountered bear twice: once in the daytime; once at night.  He told me that one should quickly back away from the bear in a calm way.  "Grizzly bear cannot climb up a tree.  So you can climb up a tree if you have to do so.  Black bear climbs very well.  So you just have to move away quickly.  But don't let it think that you are running away.  It'll chase after you otherwise.  To black bear, you cannot lie down pretending dead.  This trick only works for grizzly bear."  Jason could be my perfect camping company.
 
I met Jason in a summer evening on Bloor Street in Toronto.  I was sitting on a bench and reading a brochure on products of my company, while waiting for my clothes to be dried.  A handsome young man approached me for some change for his subway fare.  He wore a colourful red head band, carried a fully stuffed canvas knapsack with an equal sized wood cross on top of it.  He wore a long sleeve shirt, jeans and a pair of boots — looked very cool and masculine.  His eyes were innocent and honest.  I instantly liked him.  He also liked me.  We talked for a while.  Then he invited me to visit him at his parent's house.  I was glad to accept his invitation.  For a long time, I had been stuck in the city, lonely.  Lonely in a sense that I had no one to share my feelings, my life and my love.  Perhaps, we could be good friends.
A few days before the commencement of our Algonquin trip, Jason backed out.  He had real excuses.  I decided to go alone for I had never been a quitter.  I was not afraid of taking risks and I didn't like to change plans in the last minute.  So I drove into Algonquin Park by myself.
I wished that I had a few other friends whom I could ask to come with me.  But I didn't.  I had difficulties in making friends or maintaining a friendship.  I just didn't fit in this society well, although I had tried hard.  Perhaps the cause of it was my foreign culture background or my limited proficiency in English language or my different personality, or the combination of all the above.  I didn't know.  All I knew was that I had travelled, alone, to Banff, to Britain, and now to Algonquin.  Desperately I hoped that my next trip would not be the same.
"Who are you?!"  the echo responded.
"Where are you?!" with full voice I demanded, to the forest, the rain and the sky.  My breath had never been so well connected and so supportive to my voice before:
"I know who you are.  You are powerful.  You control the nature.  But why do you give me such a heavy rain?  Why do you want to have my back broken?  Why do you make me fall into the swamp?  Today is my birthday!  I cannot fight against you.  I am so small, so weak.  In your infinite universe I am just an infinitesimal.  You are the God — the God of the nature, the God of the universe, the God of human beings.  I believe in you.  I believe in you, not in a sense of you as a creator, but in a sense that you represent the natural law of the universe.  The law of physics, it logically forced me out off my canoe when I pushed hard.  The law of physiology, it made me weak after I had been soaked in cold water.  The law of meteorology, it rained instead of being sunny when dark clouds blocked the sun."  I heard a silent message coming to me:
"The law says that if I continued carrying the canoe under the current situation, I could have my spinal column broken.  The law says that if I didn't get friendly with these two Americans and canoed with them together, I could have to wait for much longer to be rescued by the next canoeist who might show up in a few hours or a few days.  The law says that if I had a friend coming with me, my friend and I could help each other out when we encountered trouble.  The law says that if I had been good at making friends I could have had a friend coming with me."
I continued to talk to my newly found God, "My God,  I will obey your law.  I will not go against you.  When I follow your law, like a swimmer following the buoyancy to cross a river, we become fellow men.  We become co-operative partners.  I will co-operate with you.  Now, I stop here, take a rest, refresh my energy.  I will wait, until the weather become better and my energy stronger.  Now please give me your co-operation, give me some sunshine.  please!"
Immediatelly, the sun showed up its face between clouds.  The rain stopped.  The autumn leaves reflected sun rays glitteringly.  Everything looked beautiful.  Feeling refreshed, I carried the canoe with less difficulty than before and humbly moved on.  Around the sun, the dark clouds were threatening to block the sun, at any moment.  I decided to move as further as I could while the sunshine was still with me.  I didn't feel the powerful ego that had dictated most of my life any more.  My ego had always propelled me to make relentless effort to achieve my goals.  It had never accepted a failure.  In fact, I had achieved every important goal which I had set for myself, in my life.  Now, I accepted that I had been defeated by nature.  I had given up my ambitious canoeing and portaging plan.  I had given up fighting against the broken seat and the physical exhaustion after falling in mud.  I had even given up carrying the canoe.  In the wildness, it was not me but nature who was at the commanding position.  I couldn't go against nature and its rules and laws.  I could not do what my will wanted to do.  I could only cooperate with the world, the environment around me.  I could only be a law abiding creature in nature.
When I finally reached Merchant Lake, I found it totally different from its peaceful appearance which I saw in the morning.  It was full of big waves: waves that shoved and crushed against each other.  Above them was the strong wind: wind that blew my canoe all the way back to where I had started, not long after I had departed from the shore.  I learned to aim the head of the canoe facing the wind direction, with as little deviation in angle as possible.  Any significant deviation could lead to a significant exposure of the canoe's side body to the wind, and this would allow the mind to push the canoe backwards.  I found out that my seat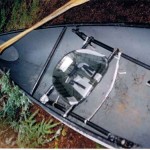 was irreversibly broken, for it WAS shaky when I first rented the canoe.  Mark's fastening job didn't help to hold the seat.  So I had to knee on the bottom of the canoe and squat on my heels.  This position helped to keep my centre of gravity low, but it also caused pain on my legs.  I used my knees to balance the canoe between the waves.  I felt the danger that I could be thrown into the lake again, because the waves and the wind made the canoe so unstable.  I decided to rest at the nearest campsite and leave the task of crossing Merchant Lake to the next day.  I had just found my God — the laws of nature and the world.  Between realizing my plan and following the laws of nature, I chose the latter.  I chose not to fight against the violent wind and waves, not to risk my life in crossing the formidable Merchant Lake.  Otherwise, I could be thrown into the lake and soaked in the H2O again.  I decided, once I returned back to the civilization and the society, I would follow the laws of the human world too.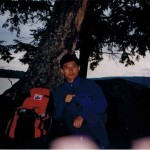 Having erected the tent and eaten my supper, it was nearly dark.  I hurried up to hang the food bag to a tall tree's branch.  I used a white rope, with one end tied to the food bag and the other to a fist-sized stone.  I threw the stone up to catch the branch, but it failed and returned with the rope on it, back to the ground.  When I bent down to pick up the stone to try again, I found that the stone was in the middle of some animal droppings.  "The bear have been here before!…"  I was horrified, "if it has been here before, it may come back again, especially when it smells food!"  Nervously, these thoughts ran through my mind quickly.  I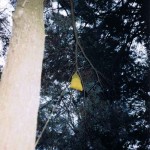 immediately ran back to my tent, took out a book which contained some pictures of different animal droppings.  The pictures showed that a black bear's waste was like a big pile shape, a white-tailed deer's waste was like a spread of almonds.  The latter was what I had seen.  I was relieved.  It was dark already.  I went back, threw the stone a few times and finally succeeded in catching the branch.  Then I pulled down the stone end of the rope.  At the other end of the rope, the food bag rose high above the ground and away from the trunk: the bear could never reach it!
I made a large campfire, dried some wet clothes till midnight and then had a deep sleep until some heavy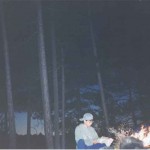 sounds waking me up the next morning.  Bong!  Bong!  The sound was solid and heavy, like a stone was thrown onto the earth by a strong and violent force.  A squirrel couldn't produce such sound, although it could move around my tent and produce the sound effect which I once mis-interpreted as a bear moving around.  The wind couldn't make such a sound, although it could blow and flap the tent and make the kind of sound which I once mistook as a bear patting on the tent.  This must have to be the sound made by a bear who was playfully throwing the stone to the ground!  I held my breath, stilled my body and listened carefully.  The sound stopped, for a long while.  "The bear must have left." I told myself.  I got out the tent and looked around.  Bong!  This time I saw a pine cone falling from a tall tree and on that tree a squirrel was jumping from one branch to another.  I learned a new sound in this park.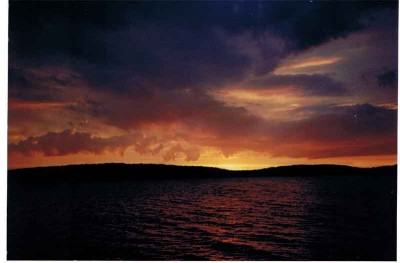 It was dawn at this moment.  The lake was misty and enigmatically beautiful.  The sun was rising above the horizon, painting the black and grey clouds with blood red.  The sky was like an oil painting, full of tension and strength.
After breakfast, I started off to cross Merchant Lake.  The wind wasn't as strong as it had been the day before.  The waves were also less violent.  I was able to paddle my canoe without taking too much risk.  I had been prepared that if I fell off the canoe again, I would not panic.  I would calmly hang onto the canoe, get the pot out of my backpack and scoop as much water out off the canoe as possible.  Then I would put my hands on the end tip of the canoe and pull myself out of water, onto the canoe.  I was told that the canoe would stay float even when it was leaking and full of water.  In this case, I would sit at the bottom, with legs stretched horizontally forward, paddle.  It was cold and it rained occasionally.  No other canoes could be seen on the lake.  No other canoeists could be seen around the lake.  Only the trees, the water and the sky were visible.  The wind sometimes blew my canoe off its course, but I was just strong enough to paddle against the wind and regain the correct direction.  If the wind had been slightly stronger, I would have been helpless.  So I had to be extremely focused on controlling the angle between the wind direction and the canoe's moving direction.  I was scared and alone.  I started to count my paddling strokes loudly, so that I could hear myself, so that I could know that I was alive and paddling and my canoe was moving forward steadily, inch by inch and foot by foot.  "One.  Two.  Three….  One Hundred."  "One.  Two.  Three….  Two Hundred…."  After one and half hours, twice longer than it took me the day before, and after more than 2,000 strokes, I finally reached ashore at the other end of the lake.
I took a few minutes to rest, then carried my belongings through the short portage trail to Happy Isle.  I found at this time the wind and the waves were too rough to allow anyone to canoe.  I was anxious to reach Opeongo Portage Store, to reach the civilization as soon as possible.  "Who knows what will happen next?  In this wildness, who would know if something happened to me?" I thought.
If I were the Xiaoping before, I would have shoved off regardlessly and fought wilfully against any external forces till the last gasp.  But I had learned the lesson to respect nature and my God.  My will was still alive.  It would be activated and fulfilled only when the laws of nature permitted such action.  So I waited.  When the wind subsided a little and the waves weakened a little, I set off.
In stead of crossing the lake diagonally in a straight line, I paddled along the curved lake shore to minimize the risk.  Several times, the wind and the waves were violently strong.  They pushed my canoe to the shore, allowing no room for negotiation.  I could only wait and obey the law that nature had displayed.  There were rocks along the shore.  The canoe was pushed so hard against them, it was hitting the rocks heavily.  To protect the canoe from being broken, I lifted the canoe out of water and put it on the ground.  While waiting, I ate some cookies and jujubes to replenish my energy.  I wished the sun came out of the dark clouds, because whenever it did, the wind and waves subsided a little, and then I was able to resume canoeing.  The sun, the wind and the water, they were playing such an intimate part in my life — an experience I had never experienced before.  They were my sole company on this wild lake.  They were my friends (hence I cooperated with them), not my enemies (thus I wouldn't fight against them).  I loved them.  After many stops and blown-backs, I finally arrived at the other end of Happy Isle.  As soon as I pulled ashore, the rain poured down.
A few canoeists were also stranded there.  They were either on their way back to Opeongo Lake or on their way heading to the interior.  We made a campfire to warm our bodies, chatted about interesting experiences in the wildness and had some laughs.
A couple of them had booked a shuttle boat to take them across Opeongo Lake back to the Portage Store.  I took this opportunity and went along with them.  The shuttle boat was flying above the huge water waves.  For the first time I realized the hardness of the soft and shapeless water.  Our bodies were trembling under the impact between the waves and the boat.  Droplets of rain collided on our faces and hands — I felt that I was whipped and beaten.  In the middle of the lake, the seat of my canoe was broken loose, leaving only a string attachment to the canoe body.  The fellow sitting beside me just simplly removed the seat and put it in a safe place.  I was comforted that soon I would be back to the civilization, be able to drive my car and have a good meal and a good sleep in a sheltered inn.  I also wondered how Mark and Jared were cooping with this weather.
At Opeongo Portage Store, the young man who planned my portage trip, apologized for renting me a badly shaped canoe, after learning what kind of trouble I had went through.  He hoped that I would not be discouraged and would still enjoy canoeing and portaging.  I told him, "I'm sure I will come back next year.  It is still a valuable experiences.  Falling into a swamp and at that moment thinking of life and death, they made me treasure my life more than ever before."  He stared at me and said, "It's VERY NICE to have met you." 
When I drove along highway 60 corridor, away from Opeongo Lake, it was almost dark already.  Trees and lakes moved to my behind on both sides.  They looked obscured and mighty in the heavy rain.  I played a classical romantic music tape and drove slowly.  I felt extremely calm, completely free and a deep sense of loving.  I was re-born on my 30th birthday.  The mud and the water gave me the birth.  I was also re-born with a new value.  I had found my God.  I had learnt to obey the law of nature.  I had also learnt that I should never fight against my God's inviolable law that governs the universe which includes nature and human beings.  I promised myself that I would respect the power of nature, the will of people and the dynamics of the society.  I would treat them as my friends and co-operate with them.  Then, I would have more friends and be less lonely.  I would be able to come back to Algonquin with a friend next year and enjoy canoeing and portaging to a greater extend.
The next day I went to the park's Visitor Centre.  Looking at a real birch canoe originally made by the Indians, I was amazed, "What a feat had it been for these Indians who lived in Algonquin centuries ago!"  I saw some displays on early white Canadian settlers who resided and logged in Algonquin in the beginning of this century.  A couple of villages comprised only one or two families.  In the half-a-year-long winter, these villagers were completely isolated and extremely lonely.  So it seemed to me that loneness was a part of early Canadians' life.  They probably did not ask for it, but it was the demographic reality in this country — vast land and small population — that had manufactured a bunch of lonely Canadians.
Once I returned to Toronto, Scott told me that when he was living in Hong Kong with his diplomat father, he heard of an organization called Outward Bound.  It trained adults to survive in the wildness.  An individual trainee was sent out to live alone in the wildness for a few days.  When he / she returned, an mature and responsible adult was made.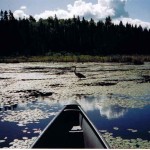 I logically deduce: I am a mature and responsible adult, now.
Should I encounter new formidable tasks or tremendously difficult times in my life, I should remember the paddling strokes that I have counted on Merchant Lake.  Then I will keep moving, step by step, forward.
75 Salem Ave.
Toronto, Ontario
January 19, 1994  
Revised on March 13, 1994