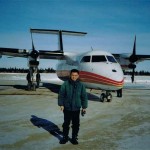 "Men are needed to go to the wildness with me, this winter, to build an igloo or quinzee and sleep in it overnight.  Cold. Hard work. Danger.  These are the only promised rewards."  I placed this ad in Manline.com on November 1, 2002, hoping to find a young, tough, adventurous mate.   A few people responded curiously.  Only one man in his forties from California was seriously interested.
The first time I knew igloo was when I was in grade 2 or 3, in a southern province in China.  I read a picture book that depicted a city of ice-blocks-built domes, with the Eskimos walking and driving on ice-blocks-paved roads.  Wow!  My imagination ran wild.
In 1988, at the age of 24, I came to Canada to pursue graduate studies at the University of Toronto, and also to seek freedom to express my homosexuality.
Toronto never lacked cute athletic or handsome muscled gay men – I had discovered in my years of living here.  By 2002, after having played in a gay tennis club and a gay volleyball team, and started a gay rock climbing group, and then a gay water polo team, I had yet to find a mate.  The real tough adventurous gay men were a rarity.  To match a mate among them was harder.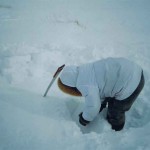 In November 2004 I decided to build an igloo, not a quinzee, even if I had to do it alone.  I had found on internet pictures of people building an igloo and the instructions on how to build it.  What I needed next is to find a place where I could build an igloo.
I first called an outdoor adventurous program operator in the Algonquin area.  He told me that the snow there was not hard enough.  But he welcomed me to experience quinzee building with his company.  "I want to build an igloo," I told him.  I began to chat online on gay.com, with guys in North Bay, Sudbury, New Liskeard and further north, Timmins. 
"have you ever seen or heard of an igloo being built in your area?"  I typed.
Most of the time the answer was "no".  Once a college student in New Liskeard responded, "yep.  i built one in my backyard."  I got encouraged and called some local tourist establishments the next day.  The answers were, "You need to go further north."  Further north, the agents of Tourism Timmins gave me conflicting news.  One said that she had heard about a winter festival that showed people how to build an igloo.  The other said that I needed to go further north.  To be safe, I called Cochrane and Kapskasing.  "You need to go further north," they told me.
So I tried Moosonee at the bottom of James Bay.  It would take an overnight train ride to get to Cochrane and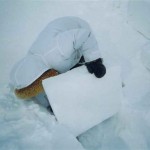 then the next day another five hours of train ride to Moosonee.  My igloo was becoming more time consuming and expensive.  A town clerk at Moosonee directed me to a village north of Moosonee, on the west side of James Bay.  "It's colder there.  And you can get there by car in winter because the land is frozen," said the clerk.  "There is no road to the village.  But people drive four-by-four back and forth.  You can hitch a ride."  No road?  Driving on frozen land? How wild!  Excited, I called there immediately.  The principal of the local school answered.  He said that he had never seen or heard of an igloo being built there.  It was a Cree community.  Building an igloo was not part of their culture.  A Tee Pee was.
I met Yakov a rock climbing gym and told him of my aspiration of building an igloo and my frustration in finding a place to do it at low cost.  "My friend Daren lives in the northernmost community in Alaska, where they have only a few hours of day light right now.  He told me that there are polar bears around town and each person is assigned two grenades per winter for self-protection.  You must be able to build an igloo there.  I'll find his phone number for you.  He's very friendly.  He's a chiropractor, went there to make good money to pay off his student loan."
I thanked Yakov.  Back home on the internet I found that community: Point Barrow — a city on the northern edge of the Alaska, 340 miles north of the Arctic line, looking to the North Pole across the Arctic Ocean.  Strangely enough, flying from Toronto to Point Barrow cost slightly less than flying to Iqaluit, the capital of Nunavut, a destination I had initially considered but not acted on because it was expensive, about $1400, enough to fly to China.  I began to favour Point Barrow as I might save hotel cost and have the locals to show me around.
While waiting to hear from Yakov, I surfed the net and stumbled upon a Quebecer's journal on his experience driving from Montreal to Chisasibi, a village north east of Moosonee, on James Bay.  Curiously I called the agency in Chisasibi.  A man told me that further north, in Great Whale, on Hudson Bay, the snow should be hard enough for building an igloo.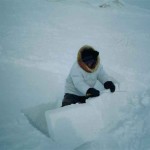 "How to get there?" I knew the road ended at Chisasibi, yet hoped for hitchhiking scenario.
"The only way to get there is by plane.  Air Inuit flies from La Grande, which is at the end of the paved road.  If you turn east onto the gravel road, you'll come to Chisasibi.  It takes about half an hour to get to Great Whale, for three hundred bucks, I think."
"Wow…"  This could be the cheapest option for my building an igloo.
I began to call the government office of Great Whale.  My first question was, as always, "Have you seen or heard of an igloo being built in your area?"
"No.  Wait a moment.  Let me ask someone else," the lady who had initially answered the phone in native language spoke English with a choppy accent, reminding me of the Chinese one.
Soon a man was on the phone.  After listening to my intention of building an igloo there, he said, "I'll transfer you to the Mayor."
I felt important.  This must be a very isolated small town where they rarely receive outside visitors.  That's why my visit is such a big thing that it has to be dealt with by the mayor!
"What can I do for you?" the mayor asked.
"I want to know when the snow is good enough for me to come over to build an igloo."
"June.  Come in the summer.  And build your igloo."  His baritone voice exploded.
"Oh!" I was shocked by both his suggestion and the impatience in his voice.  "In the summer… the snow will still be hard?" my head thinking fast, trying to get a good outcome from this conversation, "You must be joking, are you?  Hehe…"
"Yes, I'm joking, haha." He shot back.  "Come RIGHT now.  It's minus forty degrees."
"I can't come right now." I hadn't booked my flight.  "Will it be okay in a few weeks, by the end of February?  I wonder if I could find a family to host me a few nights.  Which airlines fly to Great Whale?"  I was hoping for options so I could find a cheaper flight.
"What do you think I am?!" he cut me off.  "I'm the Mayor.  I'm busy.  I don't have time…"
"Sorry.  Yes, you're a mayor.  You shouldn't be bothered with these questions.  I'll call someone else…"  I felt both annoyed and funny.  It was not my intention to seek a mayor's help.  Well, busy mayor, why did you allow your staff to pass on my simple question to you?! 
"Take Air Creebec.  Good luck.  Bye." 
I began to plan my driving to La Grande.  My biggest concern was the 600km stretch of highway 109 from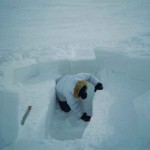 Metagami to La Grande.   There was a gas station at 350km and a few public phones spread 50km-150km apart along the road.  Nothing else.  No cell phone signals.  Walking 25km-75km in a snowstorm with not a soul around to a public phone to call for help was not a good picture.  I needed to increase my Canadian Tire Auto Club towing coverage to the 250km maximum.  But if my broke near La Grande, will they have a tow truck and a garage there?   I called Canadian Tire.  "Yes, we have towing service there," a lady reassured me after locating a contracted garage at La Grande.  Whew.  I signed with relief.
My friends at the Toronto Tongzhi Club, a Mandarin speaking gay men's group, heard of my planned trip.  Three of them wanted to come.  The notion of coming all the way from China to Canada north to build an igloo and sleep in it overnight was both romantic and adventuresome.  Off they went to book their vacation time with their supervisors.
How comic is this? I thought.  For two years I had looked for partners for this adventure and at the end, it was not those big muscled young guys, but the small, thin and mature men who responded.
I called the agency in Chisasibi again to review my driving contingency plan.  This time a different man answered the phone and he gave me a contact at Great Whale: Sonny Orr, his nephew, an economic development officer.
I called Sonny.  He was warm and friendly.  In a couple of days he told me that he had found an Inuit elder, Sam Willie, in a bar, and Sam Willie had agreed to help.  "I have never seen an igloo being built here.  This is going to be something." Sonny was enthusiastic.
"Did Sam Willie say that the snow is deep and hard enough to build one?"
"Yes.  Apparently he built one years ago.  We've already found the place for you to build it.  It's not far way from the town."
"How much should I compensate Sam Willie?"  I hopped for a small amount, since I never asked him to find me an elder to help and I had also learned everything I needed to know about building an igloo from the web, with pictures and step-by-step instructions.
Pause.  "$200," Sonny answered.  "So he can use the money to buy beer.  Hehe…"
 "Fine."  I took pity on the elder who probably had nothing to do but drinking in a bar.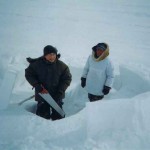 On February 27, 2005, a small Creebec plane with about fifteen passengers approached Whapmagoostui, the Cree name for Great Whale, or Kuujuarapik the Inuit name written on my ticket. 
My three Chinese friends had failed to book their time off to come with me.  As I seriously hesitated to drive alone that lonely 600km road, I suddenly remembered that I had Aeroplane miles to use.  Luckily, Creebec had a partnership with Air Canada.  I flew on points to Montreal, then, to Valdor, stopping over at a number of Cree communities including Chisasibi, and finally landed at Whapmagoostui at about 2pm.
The airport had one room, the size of half a volleyball court, for both arriving and departing passengers.  I called Sonny's office through the pay phone on the wall and left him a voice mail.  Then I walked around the room, hoping that he would get my message and come to pick me up.  On one side of the room was the counter of Air Creebec.  On the other side was that of Air Inuit.  The man and the woman behind that counter looked very much like Chinese or Korean, which made me feel instinctively close to them.  After all, they had initially come from Mongolia.
Eventually there was only me in the room.  I approached the Inuit clerks and asked if they knew Sonny Orr.  "Yes," the nodded.  Of course, this was just a small town, with fifteen hundred people, half Cree and half Inuit, and Sonny Orr seemed to be a well-known figure.
"I'm supposed to stay at his place.  But I don't have his home number.  I wonder if you could help me contact him?"  I had taken Sonny's offer to sleep on a mattress in his basement.  This way I would spend time with a Cree family and build an igloo with an Inuit.
"Oh…" they let out a sympathetic sound, looked at each other, then pointed to the other counter, "You talk to them."
"Oh, okay." I sensed an invisible line dividing this room and the two communities in town.
The Cree lady (with dark skin) warmly promised that she would find Sonny for me.
I wondered to the bulletin board on the Cree side.  It was full of paper posters on community news, most of the events were about protecting children, such as fundraising for our kids, radio play on supporting and loving our children, keeping dogs on leash to keep our kids safe , etc.  I was reminded of the teenage suicide issue in the native communities as reported by CBC.  Sonny had told me that the previous week a girl had killed herself and the week before there was a murder and, that it had worked out better that I had postponed my trip to this week.  The top left corner was a message soliciting leads to solve an arson that had burned the Inuit school, causing $12 million damage and rendering it useless.  Since this was causing tension between the Cree and Inuit communities, the Cree community would reward the informant, upon proving the lead valid and was used in the prosecution that successfully led to the charge of the suspect, $500 in cash.  This $500 doesn't seem to be easy to make, I thought.  It's an awfully small amount comparing to the $12M.
"Hi, Xiaoping!" a voice bellowed.
I turned to look and saw a middle-aged man in dark blue bulky winter coat and pants at the door.  "You must be Sonny!" I smiled.
Sonny took me on the back seat of his skidoo and rode me across the town to his home.  The town was full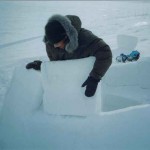 of modern houses, mostly bungles.  The streets were ploughed, with snow piles and walls on both sides, leaving hard flat snow surface for the roads – good for snowmobile and four by four SUVs.  These were the only two types of vehicles I saw on the streets.  The cold wind cut into my face.  I bent my head behind the back of Sonny to let my skull facing the wind.  I wore the warmest tuque I had.  But the wind penetrated through its tiny meshes like thousands of needle stinging my skull.  The soles of my both feet in the newly acquired Kodiak boots that were supposed to resist –40C were chilling and felt freezing.  "Cold!" I cursed.  The skidoo stopped. 
Sonny's house, especially its interior, was like any ordinary houses I had visited in Toronto.  It had the universal-looking kitchen with a counter top, cupboards above and below, a stove, a refrigerator and a dinner table with chairs.  The living room had a set of sofa, a coffee table and a big entertainment unit.  Then there were the usual bathroom and bedrooms.  I couldn't see a trace of Cree culture, except on Sonny.  He had nothing but a handful hair at the top back of his skull, draping down to his back.  The image of a bold eagle came to mind.  And he walked like a burly eagle too.  Despite his weight and big strides, he bounced up and down with every springing step that hardly made any sound on the floor. 
I fortified myself with a pair of felt pants from the Mountain Equipment Co-op and a pair of wool pants hand knitted by my mother before I first came to Canada in 1988.  I put two more layers of socks: one cotton and one wool.  I added a cotton sweater and a wool sweater under my London Fog down-filled coat.  Put on two toques and a scarf.  Sonny was taking me for a tour.
We rode to the frozen Great Whale river, which resembled a wide stretch of land covered by snow.  We rode to the tall Inukshuk that stood alone on flat land looking to the vast Hudson Bay, frozen, covered by snow.  We rode up a hill without trees or bushes, just small rocks protruding out of the snow to make the land rugged.
"It' beautiful here."  Sonny stopped to let me stand on land to take in the scene.
"Yes, it is," I echoed.  Its barreness offered a crude beauty.   The sun anchored at a corner of the sky and shot brilliant light on the snow land.  I felt no heat effect from the sun.  The snow mists churned up from the ground by gusts of wind looked like waffling vapours.  How could people have survived here, for thousands of years?
On our way home I was miserable.  My padded layers had finally succumbed to the relentless wind.   I buried my face into my scarf and hid it behind Sonny's back for as much as possible, glancing only occasionally of the scenery passing by.  My glasses were so fogged and my eyes were so teary, I could barely see a thing clearly around me.  Everything was white: white land, white buildings, white snow walls, white mists, white wind, white…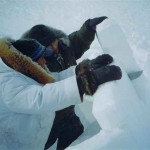 It was obvious that my winter clothing wasn't substantial enough for me to stay outdoor for hours to build an igloo.  Sonny threw me another down-filled winter coat with a hood that had fur trims around it, and another pair of down-filled army pants, to put on top of what I was wearing.  Then we went out to an Inuit family to borrow a pair of boots that was designed to resist –110oC.  Now sitting on the skidoo with wind fluffing the fur around the hood that left me only a small window to see the outside world, I felt not cold.  I felt warm.  I felt like an Eskimo. 
That evening, Sonny cooked me Caribou meat and I cooked him and his family the dim sum food I had brought with me.  It was our deal: I would bring him dim sum; he would provide me shelter.  I had never seen an Indian enjoying dim sum so much.
At about 1:30pm, February 28, by the Great Whale river, Sam Willie uses a garden shovel to clear the loose snow on the river bank slope.  Moses, his buddy and translator, tells me that igloos are usually built on slopes, so that part of the interior is more elevated than the other and the higher end is warmer, better for sleeping.  Sam Willie uses the shovel to dig a spade-wide, two-feet deep and three-feet long ditch.  Then he uses a wide two-feet long hand saw to saw off a half-feet thick, three-feet wide and two-feet tall snow block from the edge of the ditch, and put the block across the top of the ditch.  The first block of the igloo.  "The ditch under the block will be your door," says Moses.  Sam Willie keeps cutting snow blocks along the ditch, making the ditch wider and longer, and he lays the blocks one after another to form a circle around him and his ditch.  I see how this works and eagerly wants to do it myself.  First, I take the saw to saw off the snow blocks.  This job is more difficult than it looks.  My first block is not flush straight.  My second block breaks into half when I pry it off the ditch wall.  Finally I produce quality blocks.  Now it's time to learn to lay the blocks.  It's relatively easy to lay the first round as the blocks sit on the snow ground.  The second round is trickier because Sam Willie begins to tilt them towards the centre.  I succeed in placing two blocks.  The third round, the blocks tilt towards the centre even more.  I lay one block.  It falls.  The one next to it falls.  And the next one falls.  "Ha…" Sam Willie puts a new block right to where the last one fell.  He seems to be a big kid working with other big kids on a fun project, with no objection as to who is doing what and how well others do.  He just cares about getting this project done, by doing everything he can and fixing mistakes others make, all in a jovial mode.  I realize that what I've learned from the internet and my brief observation of his building technique are not enough for me to lay the tilted blocks.  I'd better stop trying blindly and keep observing.  Otherwise, we won't have an igloo before it's dark.
Sam Willie props up the new snow block to lean in a small angle against the last-laid one.  He then uses a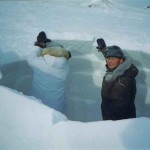 machete to go through the edges between the two blocks to cut a flat surface fit.  Pulled by gravity, the new block falls down on the previous block a little bit at a time, until it presses hard against it.  Then Sam Willie works the machete at the bottom surface of the new block, creating a slanted flat surface between it and the lower two blocks, as the new block straddles on both of them.  The machete creates a half-an-inch wide gap between the top new block and the lower two blocks, with the new block supported only by the last-laid block at one end and the other end a small corner standing on the bottom block, where the machete has not touched, deliberately.  With his left hand holding the small corner end, me at his right supporting the last-laid block to prevent if from falling, Sam Willie uses his right hand (still holding the machete) to give the new block a downward punch. "Hay!" a low explosive sound came from his mouth.  The new block goes down to close that horizontal half-an-inch gap and butts even more firmly against the last-laid block.  Now I realize that all the blocks are actually arranged in an upward and inward spiral to close in to the centre to form a dome.  After three layers of blocks went up, it feels much less windy inside the unfinished igloo.  Sam Willie climbs out of the door ditch to take a smoke break by the igloo.
Now the interior is two feet taller than the exterior because we have cut out all the available snow blocks inside the igloo.  Moses is cutting snow blocks outside the door to push them in.  He tells me, "Sam Willie says that usually there is more than enough snow inside to build the igloo."
"How old is Sam Willie?" I ask.  The Inuit elder has no problem lifting up the big snow blocks that I have struggled to lift and push onto the wall that is now taller than my shoulder.
"Sixt one, sixty two, maybe."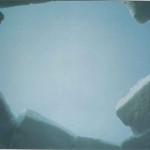 The dome is closing in, and taller than me and Sam Willie, who is about my height.  The snow debris chopped off by the machete is falling to our faces, mostly Sam Willie's.  His white beard is covered with snow and ice and snivel and white breath.  The sun shines on his face with an angle, over the roof of the igloo, through the flying snow debris and the glinting steel blade that cut the snow.  Ke Chi Ka Cza.  "Hay!" he hammers in another snow block with his signature punch.  He looks content.  His white overcoat blends in with the all white world around us.
I lay the last block flat on centre roof, with Sam Willie's help and instruction and final touch.
"Now you have your house!" Sam Willie claims at me with a jolly smile.
9:22pm, February 2005.  I'm writing this in my igloo in the outskirt of the Kuujjuarapik.  I'm wearing all my clothes, sitting in two sleeping bags, the big arm one lent to me by Sonny.  I'm relatively warm: I'm writing without wearing gloves.  My breath is white and blurs my vision briefly.  The ink of the ballpoint pen is not coming out fluently, as if it's running out of ink soon.  I hold the tip in my palm for a few seconds.  The ink flows normally for one line of words.  With three burning candles and the reflection of the snow walls, the igloo is a well-lit doom.  I keep a lighter in the sleeping bag, to keep it warm and ready to use, just in case I'll need it.  I think that I have managed the challenge of the coldness well.
I have a walkie-talkie, also kept in the sleeping bag, so that the battery won't die of coldness.  Kevin, who lives in a house about ten-minute walking distance away, has one.  Sonny, who lives about three miles away, also has one.  We have tested our communication.  It works.  Kevin will visit me  after the bingo game which ends at 10pm.  I have asked him to bring me a dagger in case I'll have to fend off the wolves.  I sleep with my head at the higher end of the slope ground, my feet at the lower end, facing the door.  I have put two blocks of snow to block the door.  If a wolf, most likely wolves, as they don't usually travel alone – I guess, would visit me, I'll let them attack my feet first, to wake me up.  I'll then use the dagger to fight and the walkie-talkie to radio Kevin and Sonny.
I feel peaceful and safe.  I have chosen this adventure and am willing to accept the worst consequence.
I have done everything I can to keep myself safe.
Moses has told me that wolves usually come to town in spring when they're hungry, to check the garbage dumps.  This time of year they're not around.  Also, polar bears are from Hudson Bay, which is about two miles away.  "But they are way over there, far away from the shore," said he.  So, the risk is very small.  End.  9:50pm. 
Morning, February 29, 2005.  I climbed out of my igloo and walked up the riverbank to the road, to return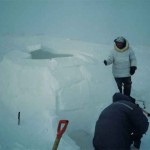 the dagger and the kerosene lamp Kevin had lent me the previous night.  Kevin was a slim, half-bald, middle-aged white man, a friendly owner of a corner store.  When I came near his house, I saw red dots on the snow spreading across the road.  They looked like blood.
Gosh!  Looks like an animal was injured last night.  What kind of animal?    
"You survived alright," Kevin greeted me from his sofa.  "Come in.  Would you like to have a coffee or tea?  The store is not open till 1pm, so I have lots of time."
"Coffee, please."  I sat down in a chair facing him and looked forward to chatting with him.  He was an interesting man, I had sensed last night, when he visited me with his daughter Sarah, her friend Sarah May, and his relatives Samsun, Martha and Ben.  I told him about the blood.
"Ooh," he lay back to the armrest and put his feet on sofa sideways and spoke quickly, "It must be the neighbour girl's baby's blood.  She said she had a black out and dropped her baby.  But who knows.  She's a nineteen year old.  Maybe she was frustrated and she beat her baby up.  We'll never know."  He adjusted his position on the bouncy sofa and flicked his cigarette over a plate on the coffee table.  "Ooh, I've been here for years, I've seen so much… I may sound cynical.  But I'm telling you the truth that many others, like Sonny, think it's too negative to tell outsiders."
"Truth is truth." I knew that I needed only a few neutral words to keep him talking.
"Tell ya.  Here, you probably need to worry more about the human animals than the wild animals.  Early this month, in Kuujjuaq, the capital of the Nunavik region, three young men tortured and killed a white man.  They put a hockey stick up his ass and a knife into his penis.  They did this while he's alive.  Then two weeks ago a teenager was shot to death.  Last week, a twelve year old girl killed herself.  Her father is alcoholic.  Her mother has problems here," Kevin pointed at his head with an index finger and quickly drew circles by his temple.  "She came home from school, with no one to talk to, felt bored and frustrated.  She took out a rifle and talked about shooting herself to her friend.  Her friend talked her out of it.  At night, when she came home from her friend's place, she felt frustrated again and went crazy.  She took a rope and hanged herself.  Ooh…" Kevin took a deep breath from his speed talking.  His head was twirling, reeling.  He sucked on his cigarette, "Usually, when I hear about suicides, I feel angry.  I will not go to the funeral.  Those adults, they are coward.  They don't fight to survive, leave kids behind, deprive them with parental love, guide, and support.  The kids then develop problems.  This girl, she shopped at my store with her mom all the time.  She was quiet and often smiled.  For her, I went to the funeral."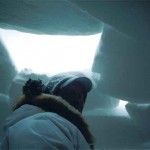 The curtain behind him had been flapping non-stop.  Initially I suspected that it was caused by a floor heating vent underneath it.  Now I finally figured out that it was caused by the wind blowing through a jagged hole in the broken window.  Why didn't he fix it, even just with a piece of cardboard?  I had observed that people here seemed less concerned about losing heat than the house owners in Toronto.  On the streets I had seen many houses with their front doors left open and through which I could see the second entrance doors were fortunately shut.
"What made you come here?" I asked Kevin.
"Ooh, I was raised by my Indian father.  He was my stepfather.  My brothers kept telling me that he was not our father.  But I was the first one to call him 'Dad'.  Now, thinking of it, he was such an extraordinary man to have taken the responsibility to father twelve stepchildren.  I later married a Cree.  She became alcoholic.  We divorced.  Then I married my present wife, an Inuit.  But she became alcoholic too.  The mayor is also alcoholic.  My wife and the mayor's wife are good friends and the three of them go to the bar together all the time.  I've got my plan to look after myself.  I tell Sarah, my stepdaughter, that God has sent me to be with her, so that she wouldn't feel abandoned or not loved when her mother went to the bar and left her at home.  Sarah sometimes feels down that her birth father had abandoned her.  I tell her that that person was not her father, because he had not done one father thing for her.  He was just a person who happened to have had some irresponsible fun and then disappeared.  I've brought Sarah up well.  Now there is this talk in this community that she will be the one to lead her people out off its troubles.  Sarah is going to a university.  And she is not going to one of those colleges designated for native students, because they have lower expectation of their students.  I used to tell Sonny that 'you're like a donkey chasing the government carrot, the funding, in front of you.  You're running in circles.'  They thought the kids need things.  So they built a gym with all those fancy equipment.  But the kids trashed them and now they are useless.  Now they're talking about building a swimming pool.  Of cause, no natives could swim.  So they would have to hire white lifeguards and then they will resent that white people are taking their jobs.  They thought if they have the things, they'll be happy.  But they won't."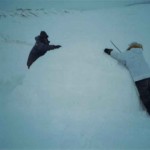 "What they need is a sense of self-esteem, a sense of accomplishment." I interjected, "I've visited China a number of times in recent years.  Every time I saw a huge change.  For instance, in my home city, when I left in 1988, the tallest building was probably only five-story high.  Now there are so many skyscrapers and several bridges crossing the river and the streets are completely unrecognizable.  People there exuded pride and confidence, because they had built all these by themselves."
"You're right," Kevin scratched his face with the two free fingers of his cigarette-holding hand.  "You can't put someone in a modern building in a doctor's or police's uniform and call that person a doctor or police.  Something has change inside to make that transition real."
As I listened to Kevin continued talking about his experiences and opinions, I began to admire how wise he was.  He was saying all the things that had been taught by psychologists, counsellors and management gurus.  "Ooh," he flicked his cigarette, "I have learned from life and the elders."  
Sonny arranged for me in the afternoon two radio interviews: one with the Cree station, the other with the Inuit station.  Every house in town had a speaker tuned to the radio stations, which made community announcements and played music.  Sonny had introduced me to people that I was his client and many people responded that they had never seen an igloo despite having lived here all their lives.  On air, I told them about the picture book I read in primary school.  I spoke about my hesitation to pee in the morning after I woke up in the igloo.  I was afraid that my pee would turn to icicles. But it didn't.  It melted the snow, and the snow was so deep, I thought my pee was going to drill a hole right into the river.  Living in a snow house on a land of snow with nothing else, I felt how tough it was for the Inuit ancestors who had survived the half-year-long winters for thousands of years, and I admired them!  The biggest challenge our ancestors faced was to survive.  Now we all have food and shelter.  Our biggest challenge seems to be, according to Maslow's hierarchy of needs, gaining self-esteem  and esteem from others.  Our ancestors had overcome their challenge.  I'm sure we can overcome our challenge too.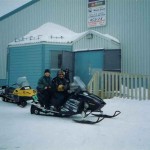 In the parking lot outside a café where Sonny and I had a coffee, a young man walked to me.  "Are you the one who built an igloo?" he shook my hand.  "Yes."  "I listened to your interview."  "Really?  Which one?" I smiled.  "Both of them.  Very good."  He smiled and climbed on his huge SUV that looked brand new.  "Enjoy your stay," he waved at me.  "Thanks," I waved back.  He seems to be younger and has more money than I do.  I felt jealous, and realized how ordinary I really was.
At Sonny's office, Sonny received a call from Sam Willie, saying that he hadn't received the $200 fee from me yet.  After we finished building the igloo, Sam Willie walked up the river bank to the road just about one minute ahead of Moses and I.  When Moses and I came to the road, Sam Willie was out of sight.  "He must had taken a ride," said Moses.  So we walked to the near-by co-op store, where Moses asked me to give him the $200, so that he could pass it Sam Willie when they met in the bar that night.  I hesitated.  "You don't trust me?" said Moses, "Sam Willie and I are good friends."  "…okay.  Could you please write me a receipt?"  Moses complied, got the cash, then left.  Sonny spoke to Moses, shook his head, "He said he has used up most of the money," then passed the phone to me.  "The way I understood was that you were going to pay each of us $200," Moses dragged his sentence, "There seemed to be a miscommunication, a misunderstanding between us.  But this is not my fault." 
"Moses.  How much do you have left?" 
"Not much."
"How much?"
"Most of it is gone."
"Exactly, or roughly, how much is left?  Give me a number."
"Ah…" Moses paused.  "Very little… not much," he mumbled.
Fishy —  he can't even come up with a rough number quickly.  "Moses," I began, "Before I came here, Sonny had made a deal with Sam Willie, which was $200 for the whole thing.  You came alone at Sam Willie's invitation, without our knowledge.  So, you will get your payment from Sam Willie.  Between you and I, we have no agreement.  So I am not supposed to pay you directly.  You should give me back the $200.  I will pay Sam Willie the $200.  And he will pay you."   
"Okay.  You give Sam Willie $200 today.  I will give you the $200 back."
"Good.  When will you give me back the $200?"
"I don't have money now.  I can give you maybe Thursday… Friday.  You're sure you'll give Sam Willie $200 today?!"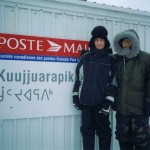 "I'm leaving on Wednesday.  You can give the money to Sonny.  As to when I pay Sam Willie, it's not your business, because it's an agreement between him and me.  Between you and me, you are going to give the $200 to Sonny on Friday.  That's what we've agreed."
"Okay…  You should give $200 to Sam Willie today.  He should he paid…"
Sonny told me that I should pay Sam Willie today, and he was sure that he would get the $200 back from Moses.  "If he doesn't pay, I'll file a complaint to the police," said Sonny.  But a few minutes later, he conceded that he might be able to get half of the money back from Moses.
I wanted to pay Sam Willie because I wanted to honour the agreement between him and me.  I also didn't want to lose $200 to a scam simply because I was an outsider, a tourist.  I called Sam Willie.  "Hi Sam Willie.  First of all, I would like to thank you for helping realize my child's dream…" I spoke sincerely, then told him Moses had the $200 and was supposed to pass it to him.  "Speak to… Alec.  Alec." Sam Willie said haltingly, "Alec… interpret."  Alec was the go-between between Sonny and Sam Willie, as Sonny couldn't speak Inuit.
I called Alec.  He promised to call me back in fifteen minutes.  He did.  "Hello, my distant cousin," Alec spoke cheerfully, implying our Mongolian connection. "Moses and Sam Willie have agreed to settle among themselves," he said.  "Next time, when you come, don't stay the Tee Pee people, eh?   They don't know how to build an igloo.  Stay with us.  Hehe…"
"Oh, yes.  That's right.  Thank you, my distant cousin." I laughed. While talking silently in mind:
I did call the Nunavik Tourism before finally decided to come to this half-Cree and half-Inuit community.  But the lady told me that there wasn't enough snow in the Inuit villages in norther Quebec this winter, and directed me to further north, Nunavut.  I then called a tourist operator in Iqaluit, capital of Nunavut, and spoke to a couple of people there.  But none of them got back to me despite my repeated calling and leaving messages to their colleagues.  I do want to stay with an Inuit family next time.  Kevin told me that they still eat raw meat.  I'd like to try that.
The following morning I told Sonny that I was going to wonder around in town before my flight at 1:30pm.  I bundled myself up and walked on the street.  A young man and two young women walked briskly to my direction.  We greeted with smiles.  "Where is the school?" I asked. "That's where we are going," the man said.  I followed them and realized that they were high school students and they were late for their classes and they didn't carry anything with them, which meant they did not do homework the previous evening.
A staff member took me to a boardroom where the principal and a few board members were having a meeting.  I explained that I was visiting from Toronto and was interested in touring the school.  They nodded and assigned the staff member, Ben, to take me to the classrooms, starting from the lower grades.  I felt important, as I did when the Mayor answered my phone.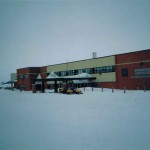 The Cree students learned their native language in their first years in school.  Then they started to learn English.  Almost all the teachers were from the south – Ontario, Nova Scotia, Quebect, etc.  In one classroom a teacher was teaching sign language to only one student.  The teacher had been here for over ten years.  She used to have another student, who quit before graduating high school.  The younger students seemed to be focused on their studies.  The older students seemed to be the less interested in listening to the teachers.  Finally I came to a dimmed   classroom, where a TV showed people abseiling in a mountain, and a few high school students sat watching with their arms resting on their tables that had nothing – papers or pens – on them.  
"Hi…" a middle-aged white woman emerged from a dark spot behind the big TV.  After our introduction, she explained in a high-pitched voice, "I was just showing them the Amazing Race from last night, to wake them up a little."
Now I could see the students' faces.  They all looked hostile, just like the way my old brother used to look at my mother when she disciplined him after learning that he had skipped school.  
"Would you like to talk to our students and tell them where you come from?" the teacher said enthusiastically, and before I agreed, rushed to the windowsill to fetch a globe and quickly came back to me.
"Sure." I was glad to help.  I pointed at China and talked about my first flight to Canada.  My embarrassment of not knowing what to do with the nice long black coat that lay across in the storage cabin over my seat.  "I thought that this coat was someone's private property and the Westerners valued privacy and their property.  I should not touch this private property.  But in the meantime I had this micro-suitcase in hand that I need to put away.  While I hesitated, I blocked the isle and the traffic.  A steward came to me and said something.  I didn't understand.  He gestured a lifting motion.  I nodded.  So, he swiftly shuffled the coat aside, lifted my micro-suitcase and pushed it in.  By that time, everyone around was looking at us."  I laughed dryly.
"Hehe."  Several students responded. 
"Yeah, my English was poor then.  As a graduate student in the Chemistry Department, I had to demonstrate lab techniques to the first year undergraduate students, to earn part of my living.  Often I just moved my hands with the apparatus and said, 'you do this, this, then this, this and this.'"  I laughed at myself.
They found it funny too.  Even the man who had buried his face in his forearms on the table all the time laughed audibly.  But he refused to lift up his head.
"Look at how well you speak now," the teacher said.  She asked me write my name on the blackboard and learned how to pronounce my name correctly.  Then she asked the students to introduce themselves.  For the first time, each student spoke one word: their first names.
I talked about my igloo-building trip.  They seemed to be more interested in the story.  At the teacher's prod, Steve, a model student, began to ask me questions.  Despite the teacher's further prodding, no one else asked me question.  Finally, a few minutes before the recess, Steve asked, "How old are you?"
"Hmm… How about you guys take a guess?"  I looked at them one by one and waited for answers.
The three girls guessed that I was about 31.  The four boys guessed that I was about 41. 
"Thank you girls for considering me young.  You boys are right.  I'm 41!"  We all laughed.
Walking out of the school, I thought that I should have better applied my facilitating skills by asking the girls and boys debate with each other why their guesses were right.  That would have been a riot!
As I decided which direction to go at an intersection, I saw a familiar figure riding a skidoo to me.  It was Kevin.  I suddenly felt that I had been here for a long time, as I could bump into a person I know on streets.
"Do you know where I can find Sam Willie?" I asked.
"Yes, I'll take you there."  He motioned me to hop on his back seat.
We came to Sam Willie's house.  I gave him one of the three walkie-talkies as a souvenir.  I had given one to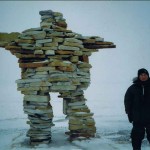 Kevin and one to Sonny.  It just happened that one of them was Cree, one was white and one was Inuit.  Sam Willie and his wife talked in a mixture of Inuit and English, which I didn't understand.
When we walked out of their house, Kevin told me what he had understood.  Sam Willie's wife lived in an igloo till she was twenty.  "They kept calling you Inuk, Inuk, Inuk.  In their language it means an Inuit person.  They consider you a real Inuk because you have built an igloo and slept in it.  Many Inuit youngsters have never built an igloo, let along sleeping in it."
 I'd like to stay with Sam Willie next time when I came to visit this town. 
Kevin took me for a final tour of Kuujuarapik and its surrounding area.  One a wide street leading to Sonny's house, a young man waved at Kevin to stop.  He walked to me and took his right hand out of his mitten, "Are you the one who built the igloo?"  He smiled and shook my hand as I answered, "Yes." 
"Hi…" a chorus of greeting sound erupted around us.  Suddenly I was surrounded by a group of girls and boys, and each of them were taking their right hands out of their mittens, extending them to me to shake my hand.  I felt I was a hero.
The young man explained, "I'm a teacher.  This morning in school, we heard that you've built an igloo.  So I took the kids to see it.  We've just come back from the igloo.  The kids loved it.  I told them don't destroy it.  A few teachers from the school will be sleeping in it overnight."
"Tell them to bring extra padding for the floor.  It's the coldest part." I offered excitedly.
"I knew something good was going to come out of this," Sonny said upon hearing this story.