Under a blazing sun, I walk on grey sand by the Atlantic Ocean, in bare feet and half naked, with a blue surfboard under one arm.  This is the second to last day of my one-week surf-apprentice trip.  But I've stood up on the board only twice.  I look at my bloody right foot, where a slice of skin has been scraped off by the fin of the surfboard, and feel slightly disappointed.
I look ahead, and see the nose of the blue surfboard in front of me, pointing upward.  Its fresh blue colour, its flat and curving shape look like a stylish image in a glossy photograph.  It uplifts me. 
I have always wanted to surf…  and now I have tried!  It was better than my first experience in a canoe, at least.  Six years ago, when a friend of mine told me about backpacking, camping, keeping oneself warm and fed in the wilderness and not being eaten alive by bears, I was excited.  I was eager to try.
So, on an auspicious September afternoon, carrying a backpack of camping gear and food, I set a canoe on Opeongo Lake and paddled into the unknown.
When night fell, I couldn't sleep.  There was a noise circling my tent and I feared that a bear was walking around to examine this strangely shaped object.  Then I heard a flapping sound from the top of my tent.  Oh, no!  The bear is patting the tent.  I held my breath and pretended to be dead…
When the noise finally stopped, I heard wolves howling in distance.  I prayed that I would see daylight.
The next morning I was awakened by thudding sounds: Bong!  Bong!  Only a bear could make such a heavy sound by throwing stones onto the ground.  I stayed still.  After a long while, when all was quiet, I stuck my head out of the tent to look around.  Bong!  A pine cone fell on the ground in front of me.  Above, a squirrel jumped on a tall tree, from one branch to another.
The sun was rising, painting the black and grey clouds blood red, like an oil painting, full of tension and strength. 
I paddled for two hours to my first portage, and in two trips, carried my canoe and backpack through a forest along a two-kilometer trail to the next lake. 
In such fashion of portaging and canoeing, I went further and further into the wilderness, where no road or telephone was available.  Whatever happened, I would still have to drag myself, my food and the canoe all the way back to Opeongo Lake.
Day three.  I was in a bog area.  The water was shallow, just deep enough to carry the canoe.  Grass and weeds stood above the water, leaving me a narrow path to negotiate through.  Suddenly, my canoe got stuck.  I paddled the water hard, but the canoe wouldn't move.  I started to push the soft mud.  Kachaah!  My seat collapsed.  The canoe swung left and right, up and down, nearly dumping me upside down into the water.  I felt my head was going to hit the water first.  But just before this could happen, I jumped to my upright position, and landed with my feet in mud. 
The canoe was one third full of mud and water.  I tried to climb back over the side.  But the canoe only tipped sideways to scoop in more water and mud.  My feet were sinking, the mud was moving up to my knees, thighs and hips.  It was sucking, dragging me steadily into its warm softness, leaving no room for negotiation. 
I decided that I couldn't get out by myself and I needed help… "Help!… Help…  Mark, help!  Jared, Help!…"
I had shared lunch with Mark and Jared not long before.  Hope they are still within hearing range.  I opened my mouth wide, relaxed my shoulders, and took deep breaths.  Finally, two years of classical voice training was paying off.  
My plea echoed above the lake.  I waited, and waited.
Ping… we are coming!"
By the time Mark and Jared arrived, the mud was already up to my waist.  They told me to put my hands over the tip of their canoe.  Slowly, I pulled myself out of the mud. 
Nature is dangerous, I learned, in thunder and storm, and in peace and still.
 
However, I was not discouraged from returning to nature.  Through this life-and-death experience, I found life precious, and the best way to live this precious life is to experience, as much as possible, what the world has to offer.
The following spring I took an outdoor rock climbing course and learned safe climbing skills.  That summer, I spent wandering from cliff to cliff along the Niagara escarpment.  One sunny afternoon, above Georgian Bay, I attempted my first sport lead climb — climbing a bolted route without pre-setting a rope from the top for protection.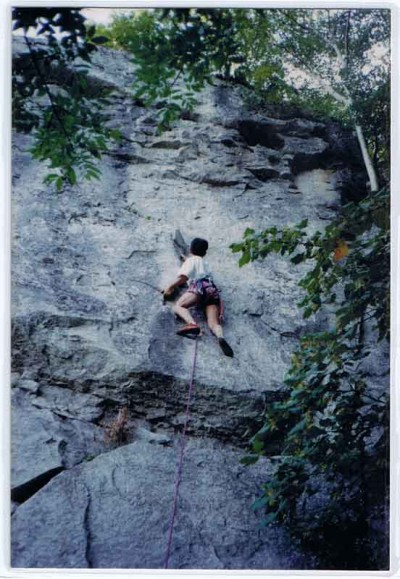 I was about nine metres above the ground, feet standing on a half-inch wide ledge, left hand pinching a thumb-size knob and right index and middle fingers squeezing tightly into a small hole.  Above me was a bulge.  To overcome this small overhang, I leaned backwards, held my balance with my right fingers and fumbled over the bulge with my left hand searching for a good hold.  My legs trembled from exhaustion.  My right fingers were softening.  I couldn't afford more time searching.  My left hand grabbed a sloppy hold and pulled.  But the hold slipped off my hand and at the same time, my right fingers popped out of the hole. 
"Falling!" I screamed. 
I pushed the rock in front of me and flew into the air to maintain an upright falling position.  I fell below the bolt that I had clipped my quick draw and rope into a few minutes ago.  Then my harness tightened around my thighs and waist, and I jerked to a stop.  The thumb-thick rope held me in the air. 
"Good fall!" my belayer yelled from down below.
I rested for a moment, then got on the rock again. 
"Falling!"  In a minute, I fell.
 ……
"Falling!"
I enjoyed the thrill of being in danger and alive.  When I finally reached the top, I felt a sense of accomplishment.  I had challenged my own limitations, and won.
I went on learning traditional lead climbing, where I had to place my nuts and spring-loaded caming devices (their widths expanded when their springs were released) into cracks so securely that if I fell, they would catch me.  Climbers wouldn't want to fall on traditional gear, because a crack might give and the climber could fall all the way to the bottom — decked!  I have climbed in B.C., the U.S. and China, and never fallen once on my traditional lead. 
The struggle to keep myself on the wall is the most intense moment I experience in rock climbing.  At such moments, I feel I am saved and re-born again and again.
 ***
I come to the surf shop to return my surfboard.  The young man, who works alone in the shop, grins at me as he notices the blood on my right foot.  He tells me that he got a cut on his head last summer.  "Too much whisky beforehand.  The doctor said that my blood was diluted, and wouldn't clog.  Heehee." 
I laugh along.
"As promised," he says, takes out a picture of him surfing in Mexico.  In the photo, he looks like a teenager; his slim body bends forward, one hand plowing a wall of water beside him as he surfs through a huge tube formed by the curve of the waves.
"I want to surf around the world, after college… to experience women of different cultures, you know… and men too."
I feel his eyes on me, and debate if I should jump at this opportunity.
I'd like to hang out with you, tonight.  Tomorrow I'm not working.  We can go surfing."
"Sure!"
 ……
The next day I find the trick of surfing. 
It's all about timing, and being at the right place.  You wait where the big waves usually form, watch small waves arise in the distance, you paddle quickly as they move closer and grow bigger, and jump on board just before they start to curve.  As the waves carry you at an astonishing speed, you feel you're standing above the world. 
"One more time," I keep saying this, until it's getting dark and cold, and I begin to shiver.
 Adventure is an additction.  I can't live without it.
 ————————–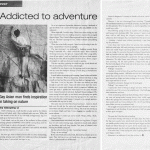 A condensed version was published in 2000 in fab, a bi-weekly gay scene magazine in Toronto.  To view the published version, please click below.